Gangnam Severance Hospital
ABOUT
GANGNAM SEVERANCE HOSPITAL The First & the Best
Severance, leading the domestic medical industry,
The world's first-class luxury hospital with customer satisfaction, Master of advanced medicine and modern medicine
Severance, the leader of medical service in Korea we will protect your happiness by promoting a healthy lifestyle.
we will lead advanced medicine through constant education and researches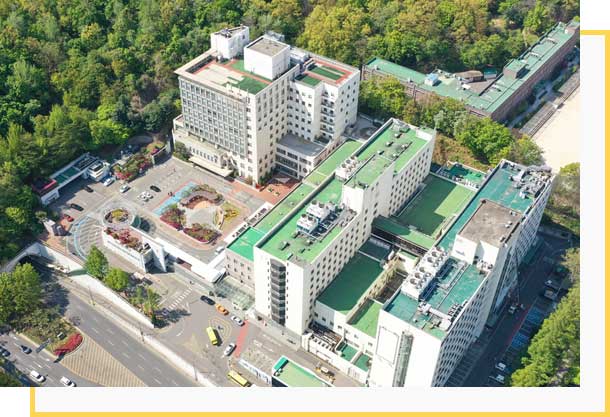 Gangnam Severance Hospital
Gangnam Severance Hospital was opened in 1983 by Yonsei University Health System to expand its medical business and establish a stronghold for healthcare delivery in Gangnam, Seoul, which used to be a neglected area when it came to high quality medical services.
The Hospital has demonstrated its undisputed excellence, including the first spine surgery to employ chemonucleolysis in 1984, the first successful lung transplant surgery in 1996, the first muscular cell transplant surgery in a refractory case patient with muscle disease in 1999, and the first successful surgery for enterobrosia in an ultra-low birth weight infant weighing 630g in 2003, based on its consistent investment to achieve qualitative improvements in healthcare. In addition, the Hospital built a trauma center, the first of its kind in Seoul, and introduced customer-centered, cutting-edge medical devices and systems, taking the lead in accurate diagnosis.
Gangnam Severance Hospital benefits from the excellence of Yonsei University Health System, South Korea's first modern medicine institution. It strives to be a hospital that patients can be comfortable trusting with their lives.
Gangnam Severance HBV Hospital
Gangnam Severance Heart Brain Vascular Hospital, consists of a heart center, cerebrovascular center, aortic vessel center, and rehabilitation center, was established in 2016.
The medical institution operates integrated multi-disciplinary medical treatment consisting of various medical departments to provide professional treatment quickly, and has achieved outstanding results in the field of medical performance and research. In addition to early detection and treatment of cardiovascular disease, we systematically help patients return to their daily lives by comprehensively performing rehabilitation, prevention, and management.
Each center has a medical team for emergency patients and a team of specialists who can quickly treat aortic dissection and aortic aneurysm.
We are also equipped with state-of-the-art equipment for diagnosing and treating cardiovascular diseases, and we are doing our best to perform high-level cardiovascular surgery, such as stent arbitration, aortic hybrid surgery, and arrhythmia procedures, quickly and safely.
Gangnam Severance Cancer Hospital
Cancer is the Number One disease causing death in Koreans. In South Korea, the incidence of cancer has been constantly rising with longer life expectancy, westernized dietary habits, and excessive stress.
As part of our commitment to enhancing our "medical care competitiveness," a core competency to become a "global premium hospital," Gangnam Severance has started its full and dedicated service for cancer treatment. Since March 11, 2010, when the dedicatory ceremony for the cancer hospital was held, we've establish ourselves as a differentiated cancer treatment institution that offers the best medical services.
Gangnam Severance Cancer Hospital consists of the thyroid cancer, breast cancer, gastro-esophageal cancer, colorectal cancer, liver cancer, pancreatic/biliary tract cancer, lung cancer, prostate cancer, uterine/ovarian cancer, and brain tumor centers and the oncology and radiation oncology departments, all of which have continuously demonstrated their outstanding competitiveness. At the cancer hospital, clinical departments relevant to treatment management gather together and organize 9 multidisciplinary teams to establish an optimal care plan to provide personalized treatment for each patient.
"Multidisciplinary medical care system" provides integrated care by cancer type for more proactive service.
Treatment specialized in female cancers such as thyroid, breast, cervical, and ovarian cancers is provided.
One-stop medical service consisting of diagnosis, surgery, and radiotherapy is offered at 6 radioactive isotope treatment rooms for the treatment of thyroid cancer, which is the largest scale among domestic university hospitals.
The cancer hospital takes the lead in curing disease by conducting endoscopic surgeries for early stage gastrointestinal cancer and cutting-edge robotic (da Vinci) surgeries to treat prostate, colorectal, and lung cancer.
Detailed information, education, and counseling about overall treatment by cancer type are provided by the coordinator.
Adequate nutrition management information that's useful for cancer treatment and prevention is provided via the cooking class that is usually available.
Gangnam Severance Spine Hospital
Gangnam Severance Spine Hospital is the nation's first spine hospital to establish a cooperative care system for spinal disease treatment with the Neurology, Orthopedic, Rehabilitation Medicine Departments, and is aiming to become the best hospital at the center of spinal science advancement including clinical practice and basic research.
As a spine hospital affiliated with a university hospital based on an organization, education system and human resources with 15 years of experience in spine center management, the Spine Hospital functions as an educational institution designated as the international education center and strives to conduct biomechanical, gene therapy and muscular cell transplantation research at the affiliated research institutes including the spinal nerve research institute and the muscular rehabilitation research institute designated as the Asia-Pacific treatment center.
As a university-affiliated hospital, the spine hospital strives to conduct medical professional training as well as patient care, and has been establishing itself as the leading spine treatment hospital in the country by offering patients comprehensive treatment that includes the prevention of spinal disease via non-professional education, carrying on the tradition of the nations' first backache school that opened 20 years ago.
Gangnam Severance Dental Hospital
Gangnam Severance Dental Hospital, which became affiliated with Korea's first university hospital with the opening of Gangnam Severance Hospital in 1983, became the largest dental hospital in the Gangnam region with the completion of construction of its annex building in 2005.
At the clinic, patient care is subdivided into oral and maxillofacial surgery, orthodontics, dental prosthetics and periodontics, with more specialized dental treatment offered by high level medical professionals.
Considering the needs of the area in which the hospital is established (high-density and high-income residential area), appropriate medical services are offered to increase patient satisfaction. As the largest-scale dental hospital in the Gangnam region, it offers top-line services including the best amenities, minimized waiting time, improved moving line, and night/weekend clinics for office workers.
With the nation's leading medical professionals and our patient-centered medical services, we will open a new future as the region's best university dental hospital.