ABOUT SEVERANCE HOSPITAL

The First & the Best
The strong network between these institutions
as well as their specialized medical services
Yonsei University Health System is comprised of the following:
Severance Hospital (including 5 specialized Hospitals, International Health
Care Center, Severance Robot and MIS Center) and Dental Hospital in Sinchon,
Seoul; Gangnam Severance Hospital in Gangnam area, located in the Southern
part of Seoul (including 3 Specialized Hospitals) and 2 local hospitals in
satellite cities near Seoul.
The strong network between these institutions as well as their specialized
medical services are what give Yonsei University Health System its
invaluable strength.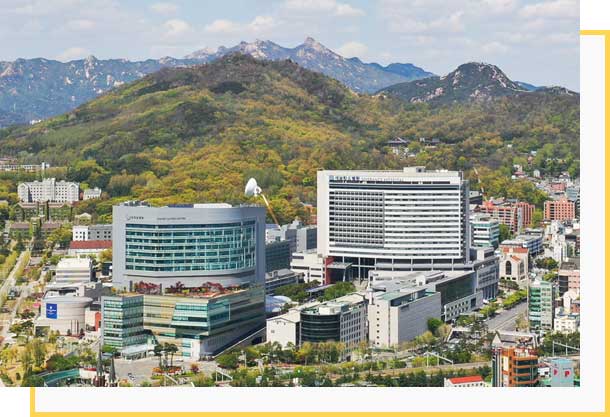 Severance Hospital
Severance Hospital, founded in 1885 by Dr. H. N. Allen, was the country's first western-style hospital named Chejungwon (Kwanghyewon) and has been serving national health and leading the medical industry in South Korea ever since.
As the first in Korea to pursue quality improvement in medical service through the specialization of medical care, Severance Hospital manages specialized hospitals including Rehabilitation Hospital, Cardiovascular Hospital, EYE Hospital, and Children's Hospital, Emergency Care Center, International Health Care Center, and Cancer Clinic. In addition, Severance Hospital endeavors to enhance the standard of the medical service in many ways, such as advocating the "Patient's Bill of Rights" in 1993 and obtaining Joint Commission International (JCI) Accreditation.
Severance Hospital practices the love of God upon which the hospital was found on, as well as love for human beings. The hospital continuously strives to secure international competitiveness through focused devotion to the development of advanced medical care, leading medical technology with constant education and research efforts and realizing patient satisfaction based on advanced medical services.
Severance Cancer Center Hospital
Yonsei Cancer Hospital started from Severance Yonsei Cancer Center, which was established in 1969 as South Korea's first cancer center. Yonsei Cancer Hospital, which has been leading the field of cancer treatment since it was Yonsei Cancer Center, is aiming beyond South Korea to become the world's best cancer center and Asia, based on its history, tradition, years of experience, international research, and treatment networks.
Yonsei Cancer Hospital is proud of its outstanding evidence-based cancer treatment. We treat tumors with superior precision and safety in less time than ever before, with robotic surgery that has been positioned as a global standard since we introduced the country's first robotic surgical system in 2005, outpatient anticancer chemotherapy for patients' convenience, drug development, and robotic IMRT that we were the first to introduce in Asia in 2013.
As we move toward the top, Yonsei Cancer Hospital has remained a step ahead of anyone else. With our appreciation of the value of both our patients' health and time, we are striving for the best.
Severance Rehabilitation Hospital
Rehabilitation is a medical area that is facing a heavier demand as industries are advancing, transportation is developing, and the elderly population is growing. The Korean society is going through unprecedented changes, resulting in a combination of the Korean unique tradition that has been handed down over for thousands of years and the recent multiple foreign cultures that are rushing in.
Accordingly, Korean medicine is also transitioning to a new world that combines our traditional medicine with modern medicine. Yonsei University's Rehabilitation Hospital is an ideal medical institution to appropriately handle such social changes and the consequent needs.
Our Rehabilitation Hospital will continue contributing to medical developments throughout the world, as well as in Korea, as a role model for creating a new world of rehabilitation that considers cultural characteristics, through an academic and clinical combination of Eastern and Western medicines.
Severance Cardiovascular Hospital
Yonsei University Health System, which has contributed to the development of Korean medicine since 1885, has established the Severance Cardiovascular Hospital that is the first national specialist cardiovascular disease medical care center, to celebrate two centuries since its foundation.
Severance Cardiovascular Hospital consists of our medical staff with deep medical knowledge and skills in the area of cardiovascular diseases. We can proudly say that we provide an exceptional quality of rejection reaction tests and determinations that precede organ transplantations, such as heart transplantation and lung transplantation.
Since we performed the national first coronary angioplasty in 1983, we have been leading the development of new coronary artery treatment techniques and the spread of technologies, while continuously growing through recent co-research projects with the world's most distinguished professional cardiovascular institutions.
Severance Cardiovascular Hospital will commit all its capabilities to the prevention, treatment and study of cardiovascular diseases with our whole medical staff, with the goal of becoming a world-class specialist heart disease hospital.
Severance EYE Hospital
We began operating as the nation's first independent ophthalmology department in 1923, after Hong Seok-hoo, one of the first graduates of Chejungwon Medical School, started to perform ophthalmologic medical care in 1908. Then, in October 17, 1996, the first EYE & ENT Hospital was established, with the goal of ensuring patient convenience and specialist medical care.
Finally, the EYE & ENT Hospital was rebuilt as the EYE Hospital on September 1st, 2019. We offer advanced medical devices and a pleasant environment for medical care, provided by specialized subdivisions.
We handle an average of 700 patients a day, thanks to our efforts to reduce the waiting times. Our Ophthalmology Department, which is recognized for its innovative medical care including the development of the nearsightedness ophthalmostat, photodynamic treatment for macular degeneration, and a one-day hospitalization system furthermore runs a Cataracts Clinic, Myopia Correction Clinic, Glaucoma Clinic, Retina and Vitreous Clinic, Laser Clinic, Pediatric Ophthalmology and Strabismus Clinic, Ophthalmoplasty Clinic, and a Low Vision Rehabilitation Clinic as well as the nation's first Behcet's Disease Specialist Clinic that was established for the purpose of diagnosing and developing treatment methods for Behcet's disease, which is endemic in Korea.
In particular, the Visual Function Development Laboratory that is committed to identifying the causes of visual disorders and the studying treatment and preventive methods for such disorders, organizes multiple workshops for nation-wide residents and attends foreign societies, which is contributing to the development of Korean ophthalmology.
We have also engaged in an exchange program for education, research and medical care with the Wills Eye Hospital (Thomas Jefferson University Medical College, US), which is one of the world's top four eye hospitals, as well as one of the oldest specialist eye hospital in the US, and is developing as a world-class laboratory.
Additionally, we opened the Retinal Center in May 2006, where we provide an even more pleasant environment with specialized and characterized medical care, as well as a reduced waiting time.
Severance Children's Hospital
Severance Children's Hospital is a result of the love and support given by many people for the specialist medical care of child and adolescent diseases.
The Child and Adolescent Department's professors have insisted on the necessity for a specialist hospital for children since 1983. The Child and Adolescent Department, as well as our graduates and professors engaged in children-related areas, then ran a fund-raising campaign and deducted a certain percentage from their own salaries for contributions in 1991. In the end, Severance Children's Hospital was created in June 2006, as the result of such constant love and support.
Severance Children's Hospital will always care about children and adolescents, with the goal of giving "meticulous care for children and adolescents through the hand of God's love." We will also work hard to prevent and treat diseases in children and adolescents, while contributing to making all children and adolescents in the world, as well as in Korea, healthy members of a society who can share love and support.